Frankston rail extension
Silence on Baxter line business case
March 12, 2019 Brodie Cowburn Latest News
FRANKSTON MP Paul Edbrooke has remained tight lipped on the progress of a business case investigating the extension of the Frankston line to Baxter.
Mr Edbrooke did not answer questions from The Times asking for an update of when the case would be completed. The $3 million business case, paid for with federal funding, was started in April of last year. The media release stated it was expected to be completed by "early 2019".
The state Labor government is the missing piece in the project, with both major parties at federal level committed to the project.
Dunkley MP Chris Crethwer said "as the railway line is State Labor Government owned and managed, they are undertaking the business plan using $3 million of Federal Liberal Government funding I secured, and need to authorise the project to proceed. Unfortunately, Labor at the State Government level have continued to play politics over the issue, instead of putting our community first, by both delaying the commencement of the business plan to begin with and now delaying the completion of the business plan.
"My aim is still for the project to commence in late 2019, and Labor need to finish the business plan, contribute funding towards the project and allow it to commence as soon as possible. Labor's delays continue to push back the potential start date for the project build," he said.
"This project is so important for our kids, our grandkids, our parents, our seniors and our community in the connectivity and opportunity it will provide, and I hope we can work in a bipartisan fashion to get this project underway."

Prime Minister Scott Morrison reaffirmed the government's $228 million commitment in a visit to Leawarra Station in September of last year. Dunkley Labor candidate Peta Murphy said "A federal Labor government will move quickly to deliver the extension of the metro line to Baxter."
"70 per cent of the Liberal's promised funding won't flow for at least another four years, putting the project off into the never never. I will work to make sure that the extension of the line to Baxter becomes a reality."

The rail extension would see the rail duplicated and electrified to Baxter, with two new stations at Langwarrin and Frankston East constructed.

The Victorian state Liberals had pledged to provide $225 million to the project if they won last year's state election, which they went on to lose in a landslide. First published in the Frankston Times – 11 March 2019
Pain ahead for Frankston line commuters as rail blitz details revealed

Frankston line commuters will face two months of disruption during a construction blitz next year as two stations are built and three level crossings removed.
The $536 million project will see the heritage-listed Mentone and Cheltenham stations get a major overhaul, while level crossings are removed at Park Road and Charman Road in Cheltenham, and Balcombe Road in Mentone by late 2020. The government is avoiding the controversial sky rail option and will instead lower the train line into a trench to improve traffic at the three crossings, which have a total of 38,000 vehicles driving through them every day.
The building work will start in the middle of next year and the stations could each be closed for about four months, while the station car parks at each site could be closed for about 18 months.
The government has assured locals that the heritage-protected train stations would be incorporated into the new design. A new "garden bridge" will be built over the sunken railway lines at Mentone station to connect the two platforms of the existing station, while the new Cheltenham station will have a plaza connecting Cheltenham Park with the local shops. The new line will run beneath the 'garden bridge' at Mentone station between the heritage-listed buildings.
A third platform at Cheltenham station will be connected to Frankston-bound tracks, so that trains can terminate or originate without getting in the way of Frankston services. More than three kilometres of walking and cycling tracks will also be created.

Transport Infrastructure Minister Jacinta Allan acknowledged that commuters on the busy Frankston line would face months of replacement bus services, but insisted that the level crossings were "relics of the past" and needed to be removed. "It is viewed that the best way to do the bulk of the work is to get in there over a two-month period and work around the clock to remove the crossings as soon as possible," Ms Allan said. "While we recognise that it will cause disruption during that period of time, this is the best way to get on and remove those level crossings." So far, five level crossings on the Frankston line have been removed as part of $3 billion worth of works.
The government decided not to build the so-called  "Frankston flyer" proposal, which would have seen a third track built between Frankston and Moorabbin, allowing more express trains to run. The state government claimed this would have required hundreds of homes and businesses to be acquired.

How the new station at Cheltenham will look. It's unclear whether the new Cheltenham station will be future-proofed to make space for more underground train tracks that could form part of the $50 billion suburban rail loop. The suburban loop will include a stop in Cheltenham, but this would more likely be located at Southland which is in the same suburb, Public Transport Users Association spokesman Daniel Bowen said.
"As upgrade works continue, the government must take care to ensure any changes are compatible with the suburban rail loop when it gets constructed," he said. "This might include provision for future tunnels and station interchanges, and ensuring that as far as possible, suburban rail loop construction does not disrupt the existing rail network."
Weeks ahead of the election last year, Premier Daniel Andrews announced that he would remove 25 extra level crossings by 2025, bringing the total number of level crossing removals to 75.
Frankston City Image
Frankston Big Picture festival
Frankston Times, 5 March 2019

Frankston to explode with colour for Big Picture Fest
Christian Tatman, Frankston Standard Leader March 7, 2019

The Big Picture Fest will paint its way across Frankston City this month. It will kick off with a free 'block party', with street artists painting buildings and laneways across Frankston's CBD. Artists from Australia, Italy, Germany, France and New Zealand are taking part in this year's event. Last year's Big Picture Fest created a huge buzz on social media with patrons sharing images of street murals.

Mayor Michael O'Reilly said Frankston had fast become a must-see destination for free public art. Frankston state Labor MP Paul Edbrooke said the festival had been instrumental in helping to raise Frankston City's profile. The festival will be held from March 22-24.
Carparking
Car Parking issues plague Mt Eliza, too.
'Desperate' for improved street safety
Mornington Peninsula News Group, 5 March 2019, Stephen Taylor
RESIDENTS in the Dalsten Grove area of Mt Eliza are concerned about the safety of mainly elderly pedestrians near Canadian Bay Road as they approach the shopping precinct.
They are "desperate for council traffic management action" on the roads which they say are lined with cars of shop staff who "park on both sides of the road all day plus other vehicles entering and exiting Dalsten Grove". Complaints from residents in Dalsten Grove, Woodland Close and Mews and Clarkestown Avenue, led to the deputy mayor Cr Rosie Clark and Cr Bev Colomb to hold a public meeting also attended by traffic and compliance officers at the shire's Queen Street offices, Wednesday 20 February. "There was a lot bigger turnout than the shire expected, with about 60 people there," organiser Clare Harwood said. "The shire had expected only about 15 people and they were taken aback, with the meeting room hurriedly rearranged to accommodate the swollen numbers."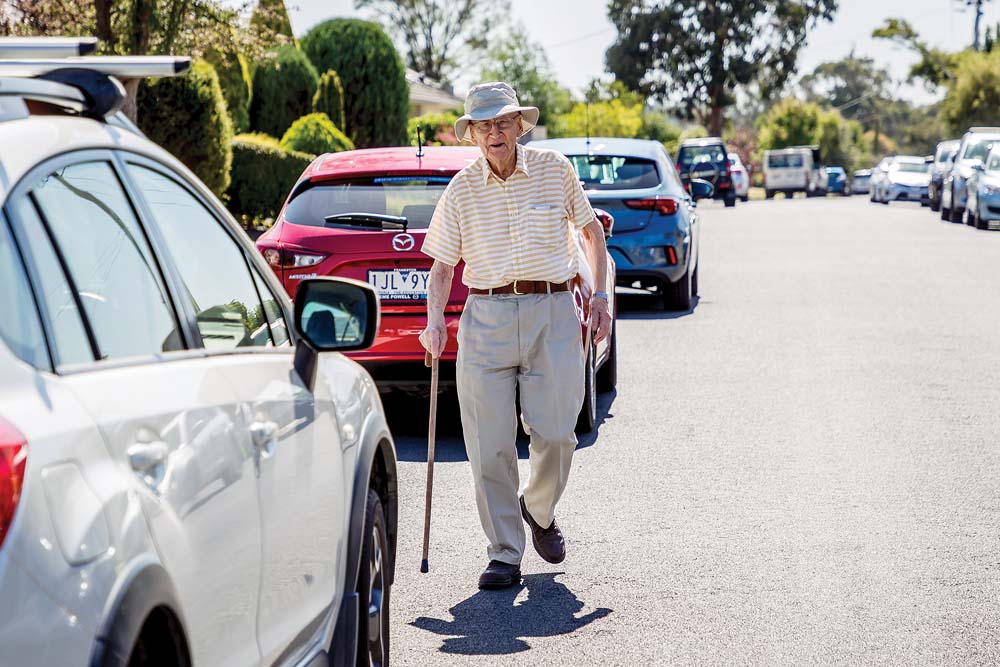 Another 20 letters from residents had been forwarded to the shire before the meeting. Suggestions put forward included constructing a footpath as far as 15 Dalsten Grove as "parked cars don't seem to be a problem" after that property and introducing parking time limits so "shop employees who currently park all day [there] would have to go elsewhere". Mike Newman, of Dalsten Grove, said residents had described the dangers they faced daily, particularly in Dalsten Grove where there is no footpath. He said they were forced to share the road already narrowed by parked cars on both sides and made more dangerous by speeding vehicles. He said Woodland Close residents used Dalsten Grove to access Canadian Bay Road and had to endure the same pedestrian issues at that corner which was a "bottleneck". "Clarkestown Avenue has a footpath and parking on one side only as far as Davies Avenue. After that, there is no footpath and cars park on both sides," he said.
Mr Newman said rubbish collections in the dead-end street were a problem as the truck was unable to turn and had to reverse out and come back the next day (Saturday) when there were fewer parked cars.
The meeting was told the Woolworth's supermarket building had exacerbated parking woes, with only eight car parking spaces allocated for staff.
The others then park in Dalsten Grove and Clarkestown Avenue. Crs Clarke and Colomb and the traffic and compliance staff considered and commented on the residents' suggestions, such as erecting better traffic management signs and methods, other than those in general use by VicRoads, which were described as "non-existent at the moment".
The shire's infrastructure strategy and climate change manager Davey Smith said "parking management, other signage and communicating with the owners of surrounding privately owned car parks will be investigated" as a result of the "recent increase in on-street parking at Clarkestown Avenue and Dalsten Grove in Mt Eliza".
Mr Newman said residents were pleased the officers had acknowledged that reduced parking for local businesses "was a cause for concern and the shire have been in discussions regarding this".
He said residents were confident that construction of a footpath would have its "place in the priority list reassessed".
First published in the Mornington News – 5 March 2019
Jobs, Jobs, Jobs
Ritchies Supa IGA Dromana adds top gong to their trolley after big win at Oscars of retail
Lucy Callander, Mornington Peninsula Leader
February 27, 2019 12:00am
A sleepy Mornington Peninsula town has put the 'super' into supermarket, with its IGA named the global chain's best at an international award ceremony. Ritchies Supa IGA Dromana took out the title of International Retailer of the Year at the IGA Global Awards in San Diego, USA, on the weekend. An international cheese bar and sushi kiosk were just some of the in-store features to wow the judges.

The win followed the innovative supermarket scooping the pool at the 2018 national awards, when it took out National Retailer of the Year, Supa IGA Store of the Year, Supa IGA Bakery Department of the Year and Retail Transformation and Innovation Award.

Ritchies Group chief executive Fred Harrison said the Dromana centre had been designed around customer needs. Ritchies Supa IGA Dromana sells produce from local growers. "The team has worked really hard to build great relationships with our local community and our suppliers and stocks considerable ranges from local growers and producers," Mr Harrison said.

Mr Harrison said one of the main points of difference was Ritchies exclusive ranges and hard to find specialty items. The supermarket has a large Mediterranean section, international cheese bar, seafood display and sushi kiosk, Himalayan salt wall and meat dry ageing room.
"As an independent supermarket we are better placed than many, to tailor our fresh offerings and provide unique grocery items," Mr Harrison said. He said a loyal, hard working team and supportive community had made the awards possible.

The Ritchies group has been operating in Australia for almost 150 years and is the nation's largest independent supermarket and liquor retailer.
Shorten Government commitment to 40 Centrelink jobs in Frankston
7 March 2019
A Shorten Labor Government will commit, if elected, to funding 40 full time Department of Human Services jobs in Frankston CBD,
more than doubling this department capacity in our city. These new jobs will include local service delivery and call centre roles.
Labor candidate for Dunkley, Peta Murphy said, "This commitment of 40 news jobs is great for the local economy, injecting around $3 million into our region."